Machine downtime monitoring
Real story: Firm stopped working night shift, saved Rs. 14,00,000 per month.
Machine downtime monitoring reduced 3 shifts working to 2
Machine downtime monitoring features of Leanworx enabled a firm to shut down 3rd shift working. What they were doing in 3 shifts earlier, they managed to do in just 2 shifts.
This happened in 7 months.
Savings: Rs. 14,00,000 per month. Reduction in personnel, power bill, canteen facilities, etc. in night shift.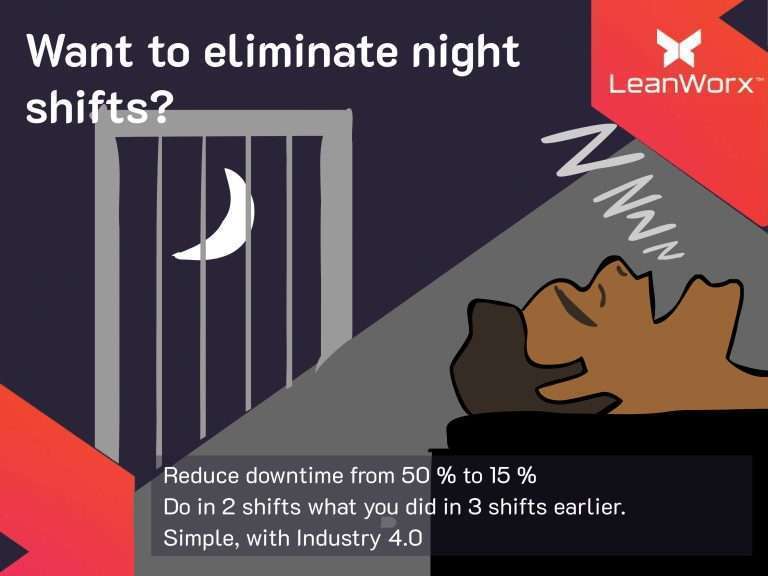 Aerospace parts manufacturer with 40 machines connected to Leanworx. Machines are CNC lathes and machining centers. Average machine hour rate Rs. 650.
Machine data monitoring - before Leanworx
Machines ran 24 hours, with 3 shifts of 8 hours each.
After machine downtime monitoring started with Leanworx, machines ran 16 hours, with 2 shifts of 8 hours each, producing the same number of parts as before.
Result: lower power bills; fewer operators, supervisors, inspection personnel, logistics personnel, canteen personnel; lower wage bills; no canteen expenditure in night shift.
How did the transformation happen ?
In aerospace and tooling parts, part batches are very small or one-off. Standard cycles times and load/unload times are unknown or have no meaning. For such firms, we suggest tracking the spindle utilization % instead of OEE, as a measure of productivity.
Leanworx tracks spindle utilization, the % of time that the spindle is working in the total time available. It shows this as dashboards, reports and large screen Andon boards on the shop floor. It also shows downtime durations and reasons.
Leanworx's machine downtime tracking reports showed that the spindle was running only 30% of the time. This meant that machines were cutting only 1/3 of the total time, and idle 2/3 of the time. 
The MD of the firm announced that if the spindle utilization went up to 50 %, all personnel would get a salary hike. In just 4 months, the spindle utilization went up to 55 %. It then went further to 64 % in 7 months, 70 % in 8 months. Machines were cutting 2/3 of the time, idle 1/3 of the time.
The reasons for the downtime were partly systemic and partly because of poor work ethics: high setup times, no raw material, high periodic inspection times, late start at the beginning of shifts, early stoppage at the end of shifts, long meal breaks, etc. The incentive of higher pay motivated the shop teams to work together and reduce all these.
Machine downtime  monitoring reports in Leanworx highlighted the downtimes and their reasons, through a variety of reports including Pareto charts. This enabled the firm to focus on top downtime reasons continuously and reduce them.
Machine downtime monitoring features in Leanworx
Machine downtime tracking in Leanworx is done  automatically, continuously, 24/7. The duration tracking is always automatic, with no human intervention. Downtime reasons can be recorded automatically or via devices that are part of the downtime monitoring system. A large variety of reports and alerts that help you reduce the waste.
The downtime monitoring software helps you reduce machine downtime  with reports like these:
– Details of individual machine downtimes – start and end time, duration and reason.
– Machine downtime analysis via Pareto and pie charts, so you can focus on the top causes of downtime and reduce them.
– Downtimes at shift change to eliminate late starting and early stoppage of machines in shifts.
– Machine downtime trends over time – day-wise,a down week-wise, month-wise, quarter-wise, to show you how your downtime reduction actions are yielding results.
Redcing machine downtime requires immediate action n crisis situations. Leanworx has alerts for this:
– Alerts on mobile phone or email to shop supervisors and managers if there an abnormal downtime beyond a certain time period. You can fix this time period.
– Alert to maintenance personnel if the downtime is due to a machine breakdown..
-Alert if there is a downtime for a specfic reason.
– Alert escalation to higher level decision makers if a downtime is not fixed.
Machine downtime reduction becomes easy with all these features.  You can respond to alerts to reduce machine downtime caused by crises situations like machine breakdowns. You can view the machine downtime analysis regularly, focus on the big downtime reasons and eliminate them systematically. The big advantage is that you can see reports and alerts 24/7, wherever you are – in your factory, at a customer's place, at home, from anywhere in the world.
Here are some of the reports that the firm used to reduce machine downtime.
Firm and machine names have been changed to protect the identity of the firm.